BETTER SLEEP .
BETTER DIGESTION .
MORE ENERGY .
CLEARER THOUGHTS .
LESS WEIGHT .
MORE EASE .
(in 21 days, from the comfort of your home, even if you you feel like you're living in chaos right now.)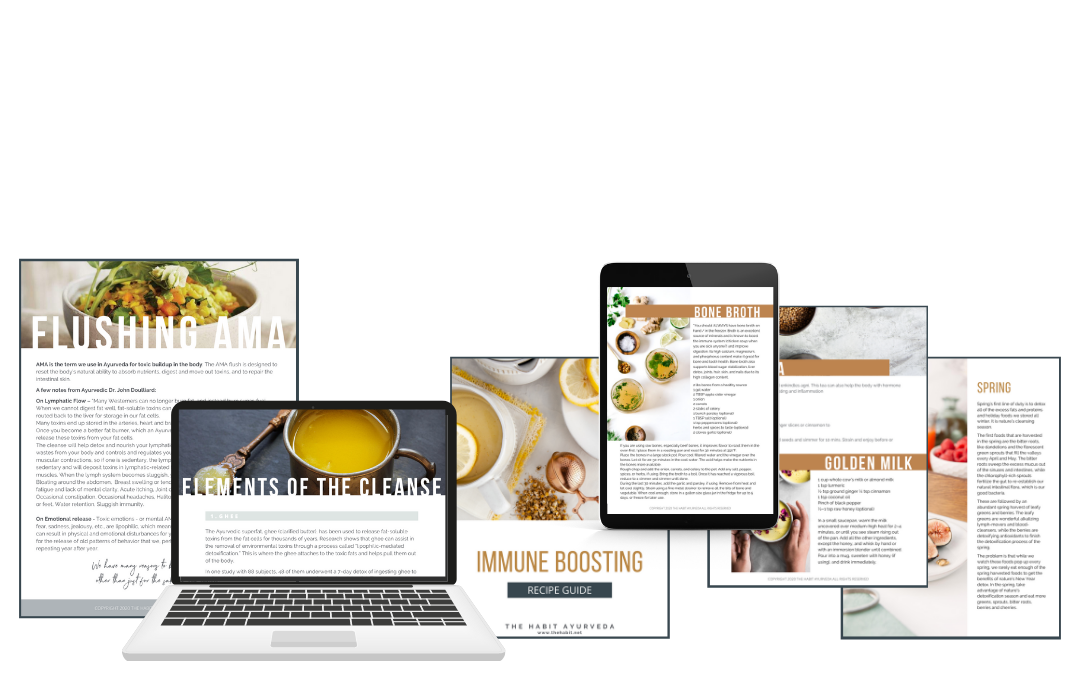 You probably already know that detoxes and cleanses are an awesome tool to help you shed weight and clean up your diet. But if you're anything like me, you've also learned that: 
the detoxes the diet industry peddles are the opposite of helpful.
Have you ever tried a prepackaged detox kit, or even a juice fast, and gotten the results you were after, only to go right back to feeling like crap (and also gaining back all the weight plus some)?
Forget that "Detox in a Box".
You don't need a bunch of supplements or pasty shakes, or some kind of starvation approach. This kind of detox does NOT give you better eating habits long term, and can perpetuate disordered eating patterns.
FOOD IS MEDICINE. Inside the 21-Day Ayurveda Detox you'll find
over 40 seasonal, delicious & cleansing recipes. 
No starvation required.
The 21-day detox is built to help you flush out toxic cravings, shed weight, and create better eating habits moving forward. 
---
SIGNS THAT YOU NEED A DETOX
If You're…
Waking up groggy

Craving too much sugar or carbs

Lacking patience / feeling reactive

Feeling overwhelmed

Carrying a few extra pounds

Achy or stiff in the body

Lacking energy

Dryness, rashes or itchy skin

You poop game is off

You're generally feeling like SH-you know what…
IT JUST MIGHT BE TIME TO HIT THE RESET BUTTON.
---
OFTEN WE WAIT UNTIL WE'RE SICK TO TAKE TIME OUT OF LIFE.
This sets up a pattern that feeds the disease process. Trust me, you don't want to wait for red flags before giving your body a break. If you do, you're headed for a breakdown.
Instead, we can train ourselves to crave (and DESERVE) a seasonal time out.
When we take time out twice a year (Ayurveda teaches that spring and fall are optimal times for cleansing) to
slow down,

to rejuvenate,

to heal,

to reset,


that's two opportunities to deeply support our digestion, sleep rhythms, nervous system.
It's restoring the body to it's "factory settings", by getting rid of all the excess draws on our energy.

And it feels. Freaking. Fabulous.
---
What's included:
The 21-Day Ayurveda Detox uses the structure for healthy seasonal cleansing that vedics have used for thousands of years.
One week of slowly dialing back, removing some of the poor quality foods and other energy drains currently burdening your system,
One week of plant-based cleansing (but still completely delicious) foods, and specific practices to moving toxins out of your bod,
And one week of easing back into a new version of normal - lighter, clearer, happier.
The three week Seasonal Detox includes everything you need to set yourself up for success through the cleanse, and moving forward. You'll receive a downloadable 60+ page guide to help you design the PERFECT cleanse for your needs. Inside are over 40 recipes - juices, smoothies, soups, stews and salads all created to give you more energy and mental clarity. You'll have access to four live calls, where you can ask your questions and feel supported. 
Easing in week -
Join me for a live call on setting up your environment

Build a structure for your perfect detox (there are different options to suit your schedule and lifestyle),

PLAN your meals, and remove barriers to success. Learn about the best spices and herbs to support effective detox.

Communicate your plans to loved ones & those who can be of support

PURGE your environment. Start with the external to give space for internal release.
Going deep week -
This week's live call supports the emotional cycle of cleansing. On the other side of discomfort, is freedom.

Slow down. Allow for silence in your days.

Under-schedule. Say no, with so much compassion. Let your yesses come from deep desire

FEEL your feelings. Allow for processing of old emotions that in the past have been avoided with simple pleasures.

Disconnect. Experience life in the present, free of distraction.

Find your hunger. Experience deep hunger, and hear what your body is truly asking for.

Enjoy simple meals with robust flavor. Reset your tastebuds to quit craving sugar
Easing out week -
Our 3rd live call celebrates the changes you've seen.

Adopt a new relationship with your food + your energy

Feed healthy hunger, healthy thoughts, healthy experiences

Give less energy to unhealthy cravings, thoughts, experiences
Moving Forward -
Our final live call sets the stage for new growth.

Set intentions for your new version of normal

Create new habits for daily detox all year round

AND - At The Habit, we take action in community. Studies show you are up to 85% more likely to reach your goals when working with others on the same path. We want to cash in on that opportunity. You'll gain access to our seasonal detox Facebook group, where we share what's working, digest what's not, and create momentum like you've never experienced.
PLUS - 
BONUS! - IMMUNE BOOSTING RECIPE GUIDE!
We could all use a little extra immunity these days. A detox or cleanse is a wonderful way to support whole body well-being, and this Spring I've added a bonus.
Members of the 21 Day Ayurveda detox will also receive my immunity boosting recipe guide! This guide is full of healing meals, tonics, teas and herbs to help you avoid contracting virus', and to help you flush them from your system in the event you pick one up.
IT'S ALL HERE, IN THE 21-DAY DETOX.

Want to join us? Yes babe, you do. Grab your ticket today.
---
Frequently asked questions:
What will I be eating?
The focus of the Spring cleanse is all things detoxifying. We'll incorporate apples as a prebiotic to help build a healthy gut microbiome, spring greens to cleanse the liver, and a nutritionally complete Indian stew called "kitchari". Plus tons of delicious salads, juices and smoothies. You're going to love it!
Do I have lifetime access to this program?
For the seasonal detox, you have access for 3 months from date of purchase. 
How much of my time is this going to take?
You have an opportunity to CUSTOMIZE your detox according to what you need, and how much time you've got. For example, you might find yourself at home these days, and have 11 hours a day to sit in meditation and move slowly and live on bone broth and oxygen for a week. And for others.... You might have full time jobs or kids or businesses to run or all of the above and still need fuel. (one day I will be that retired lady with the 11 hours though and it will be glorious). If you don't have room to take a day off and sip lemon water, it's all good. most of us don't. There are many many many recipes in the 21 day detox guide for juices, smoothies, soups, salads and entrees of all tastes, shapes and sizes to choose from. I WILL teach you about the traditional spices, herbs, and medicinal foods of Ayurvedic tradition. I WILL teach you a number of tools for using spices at certain times of day to boost your digestion and improve gut health long term. But you don't have to do all of it. You only have to do what you're ready for. You get to assess where you're starting from, and decide what's going to ACTUALLY    WORK FOR YOU, vs. what will be too much to commit to or what you don't have the energy for. 
With. My. Help.
What is your refund policy?
Courses under $197 are non refundable as all course content is available for download immediately upon purchase
---
What's Included Again?
Access to an online course hub with tutorial videos and prompts

A full-color guide for designing your perfect detox, that fits into your busy lifestyle

40+ delicious cleansing recipes

Physical practices for detox

Journal prompts / reflection practices

4 LIVE group calls

Access to a private Facebook Group for support in navigating your detox journey
Grab your Pass for the 21-Day Detox
Time for a reset.